Call us Now at:
Satisfaction Guaranteed!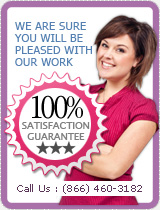 Diversity in service - Oakland Rug Cleaning
Oakland Rug Cleaning offers a wide diverse service. Years of experience have taught us that each rug should be treated and cleaned in a certain way. While some rugs demand a certain type of foam to separate the fabric hairs, others require only a delicate bonnet brush. That's why Oakland Rug Cleaning has developed a wide range of techniques to deal with any type of rug you might have: from Oriental rug cleaning to area rug cleaning no rug is left unkempt.
Cleaning a wool rug is not an easy task; Persian rug cleaning is also a tough cookie. Some materials might harm the different fabrics and cause irreversible damage. Dry cleaning is required for some rugs while other techniques are used for the rest. Oakland Rug Cleaning has perfected its service to the point where every method and cleaning detergent used is especially tailored to the rug in question. We've fine tuned our rug cleaning equipment according to the different tasks at hand, no expense was saved, and only the best materials used. For the best rug cleaning services in Oakland there's only one number you need to remember 510-999-8920 Oakland Rug Cleaning, at your service.