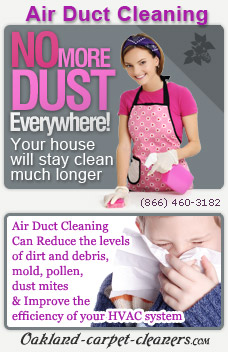 Oakland Air Duct Cleaning
Oakland Air Duct Cleaning advices you to check and clean your ducts every 12-18 months. The truth of the matter is, generally, air ducts only need to be cleaned only when necessary, and not on a regular basis. If any cleaning service provider is recommending professional air duct cleaning on a regular basis, then you want to stay away from it. They are just trying to take your money for providing an unnecessary service.
Professional Duct Cleaning
Professional Duct Cleaning is the best choice for the ordinary person. How are you supposed to know when your air conditioning and ventilation systems need to be cleaned? To find out if your air ducts require a cleaning, contact Oakland Air Duct Cleaning service and our experts will be more than happy to guide you, in how to figure out if your air ducts really do require a cleaning.
We also ensure your home or office ventilation systems are thoroughly cleaned. We're always ensuring all the contaminants are collected outside of the premises and taken to an authorized dumping site, so that you don't have to deal with that. Oakland Air Duct Cleaning clean each duct from the grill back to the main unit.
Duct Cleaning Benefits
Duct cleaning benefits are simply breathing more easily and enjoying a much cleaner indoor environment. We will take care of any system blower fan, coils and drain pan you may have. Oakland Air Duct Cleaning is the experts who care about your environment, your home and your health. Additional benefit is having exclusively state of the art contamination removal equipment on your side.
UCM Services Oakland highly recommends that you check your air ducts thoroughly, or have us do it, to see if there really has been a build up of contaminated substances.