Call us Now at:
Satisfaction Guaranteed!
Oakland Estate and Yard Cleaning Service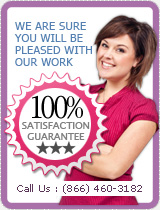 In as much as you may spend time cleaning your house - or having it professionally cleaned by the experts - what happens when it comes down to your estate and yard? Do you feel that sometimes that is just left to its own devices? Do you often just concentrate and focus on the cleanliness of your home - which is of course very important - but as a result seem to neglect your estate and yard as so many individuals do? Well, you are probably in a majority. But the thing to remember is that your estate and yard form just as significant part of your home as the rest of your property does. And if that is a huge mess with a ton of messy leaves scrawled all over the place, your home will just probably not feel as clean and tranquil as it should and could be.
All is not lost. Oakland estate and yard cleaning service specialize in exactly this problem and have a great solution. With its team of experienced experts and professionals who care, we at UCM Services Oakland can take the burden off having to remove all your fallen leaves from your premises, leaving you with not only a clean environment outside too, but a tranquil and uncluttered one, which only helps to free your mind at the same time.

The dedicated staff at Oakland estate and yard cleaning service is very accustomed to estate cleaning and yard cleaning, using state of the art, quick, efficient and quality technology to ensure your estate and yard are clean, neat and beautiful by the time we leave. No matter how big or small your property - be it residential or commercial - we will come to your aid to tackle your estate and yard as professionally as we do with your carpet and upholstery cleaning. This will not only take away the pressure and the oft overwhelming sense you will feel every time you enter your estate or yard, but it will free up more time for you to enjoy your home, worry and clutter free.
And remember the saying about how you have to spend money to make money? Well, not that Oakland Estate and Yard Cleaning service is expensive, but for the little you will expend on our services, if you are interested in selling your property, you will find that a clean estate is an attractive estate, no doubt significantly raising the value of your property.