Call us Now at:
Satisfaction Guaranteed!
Oakland Office Cleaning
If your business has anything to do with the service industry, then one of the most important things you can do - and the easiest things - is set up a clean, pleasant and professional looking environment. Now, while doing this may not actually appear anywhere on your long list of priorities, you would be surprised at just how off putting a messy or dirty office can be to clients or potential clients. However, given that you probably have a ton of stuff to do yourself, what is the solution?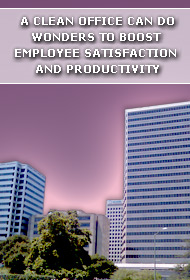 The solution is three words: Oakland Office Cleaning. With trained professional experts from Oakland Office Cleaning you can rest assured that your office will look better than it probably ever has, plus, this will be taken care of at an affordable price. Our professionals are trained to work quickly and efficiently and to make as little discomfort and be as discreet and quiet as possible, thus causing minimal interruption or inconvenience to your employees.
We pride ourselves on using state of the art technology, equipment and materials to clean your office inside and out: from tile and grout cleaning; to office furnishings, upholstery, top quality window treatment, wood floors, carpet cleaning, rug cleaning,, air duct cleaning (only when necessary) and estate and yard cleaning.
If you do choose to use the services provided by the experts at UCM Services Oakland, you will receive: competitive prices (we provide tailor made cleaning services for your needs - whether you need a weekly, monthly or annual clean, we have the experts to take care of it for you); superior high quality services (we have a very good reputation among office cleaning experts and will not finish the job until our clients are completely 100% satisfied, even if that means coming back again or sending other of our staff to do the job - whatever it takes); top insurance (we have liability and property damage coverage so you don't have anything to worry about on that front), etc.
So what are you waiting for? Look as professional as you know you are; call in the Oakland Office Cleaning today for a free estimate to raise your stakes in your field of business tomorrow.